Visitors
No Recent Visitors
10 Most Iconic Cars from Movies & TV
Added: Monday, December 2nd 2013 at 5:04pm by johnnyknox
When cinema was invented in 1895 by the Lumiére Brothers not many could have expected what was to follow. The world realized at some point that they had to deal with a discovery that was meant to change everything forever. Indeed, since the moving images were introduced nothing would be the same anymore in what it was yet to be named as entertainment industry. Suddenly, novels weren't so interesting anymore. People would become enamored with the big screen that later came to be… smaller, but still kept the same appealing characteristics. Our modern culture is visual and this won't change anytime soon. Whether it is the big screen of our local cinema, the LED screen that lies in our living room, our smart phone's tiny screen or anything else that might follow, we will continue to indulge in visual pleasures passionately.
Americans were the first to realize how powerful of a tool cinema can be and this is how they ended up "taking over" the world through Hollywood, the most elaborative storyteller in history! Everything that is depicted there on the screen can become timeless; it can shine like never before. This is precisely how we got Hollywood's stars and starlets and this is how even objects were transformed into objects of desire. What better example other than the hysteria with Dalmatian dogs after the movie 101 Dalmatians starring Glenn Close, when the whole New York felt like adopting one of these lovely doggies? In that same fashion, plenty of cars have been eternalized after appearing on the screen.
I will hereby present ten of them that I personally find quite significant. Enjoy!
1962 Volkswagen Beetle – Lovebug!
Once there were The Beatles and then it came the… VW Beetle! Both were from the same era, when love and happiness became a must. The movie was out in 1968 at the height of the hippie era and Herbie, or the Lovebug, became everyone's darling. Needless, to say, the VW Beetle remains till today one of the most beloved cars that ever made it to the streets.
1975 Ford Gran Torino – Starsky and Hutch
Starsky used to love this car. Along with him, millions of viewers of the classic TV-series Starsky & Hutch, which was played in the mid-seventies, loved 1975 Ford Gran Torino as well. The car had a second period of fame when Walt Kowalski drove that very same car in Clint Eastwood's powerful film Gran Torino.
1957 Plymouth Belvedere – Christine
Coming to think of it, Christine was a rather unusual car. You see, it had this tendency to… kill whenever it felt like! However, that small detail didn't stop the fans of the movie to feel genuine love, owe and attraction for the classic 1957 Plymouth Belvedere.
1996 BMW Z3 – GoldenEye
James Bond is one of the most recognizable cinematic characters of all time. No reason to wonder: this is a man that can do everything! This is why he was rewarded by driving a 1996 BMW Z3 in the film GoldenEye. That BMW car was a hit, with a little help of Bond ,of course; as for new car offers by BMW, well, there are plenty to consider…
1982 Pontiac Trans Am (widely known as K.I.T.T.)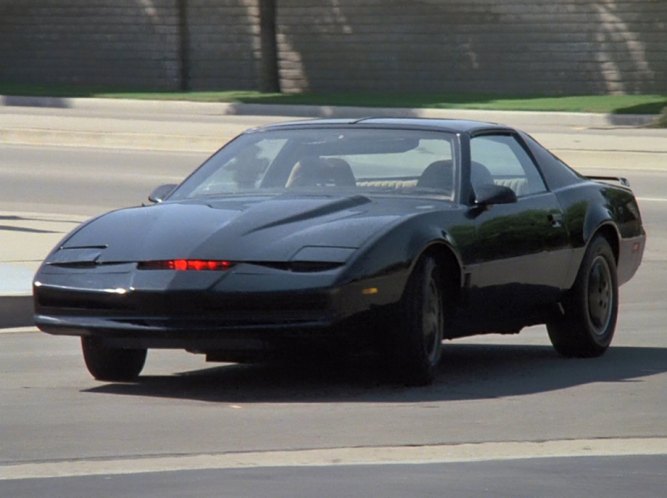 Whomever didn't grow up with the adventures of the Knight Rider might find it hard to understand the devotion we still show to KITT, the friendliest (as it was even talking to his driver!) car that ever made it on the screens. David Hasselhoff was the lucky guy to drive it; this is probably why young people still make fun of him (ok, maybe his Baywatch performance also played a role!)
1968 Ford Mustang GT390- Bullitt
Steve McQueen was a man bound to glory and the same goes for the 1968 Ford Mustang GT390. Together, they made an unbeatable team in Bullitt, an American classic action film. Priceless.
1982 DeLorean DMC-12
For the ones who grew up during the 1980's, the Back to the Future films, and science fiction movies in general, were what sexy vampires are for the teenagers of today. The 1982 DMC-12 DeLorean was a car that appeared heavily customized in the film (as it was able to travel back and forward in time);the car is still a legend, up until today. It was manufactured by a company that produced one (1) car in its entire history. What a car, though, eh!? A car that became legend…
1970 Dodge Challenger – Vanishing Point
Vanishing Point is a great film for those who love road movies. It features a 1970 Dodge Challenger car that became the obsession for many young people at that time. The movie echoed the death of the hippie era and the beginning of a new, darker, period. Most fans of Vanishing Point focused more on the Dodge car, though, rather than on the description of an era.
1974 Lamborghini Countach – Cannonball Run
A famous wedge car that looks unparalleled even till today! This is the 1974 Lamborghini Countach that no matter how many years might pass it will always signify another planet, a planet where everyone gets to drive a super car! The car appeared in the movie Cannonball Run starring Burt Reynolds, whom I don't really expect you to know if you're under 30 years old!
1974 Dodge Monaco (Bluesmobile) – The Blues Brothers
What is so special about this 1974 Dodge Monaco? Well, they called it the Bluesmobile for a good reason: this car played the blues like no other! In the movie, what used to be a police car became in the hands of the Blues Brothers the perfect machine for adventure! Beware, though; not all of the 1974 Dodge Monaco cars have the ability to fly (even for a few seconds) like the Bluesmobile does... This is a great movie with superb performances by its leading actors, feel free to watch it again and again! Enjoy!
User Comments