Visitors
No Recent Visitors
Does one laugh or cry at stupidity?!
Added: Monday, April 15th 2019 at 9:34am by GreatGayAuthor
What Does 'Buttigieg' Mean? Religious Right Web Offers Hateful Definition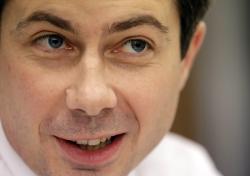 Poor Andrew Bieszad, an opinion writer for the conservative website Shoebat.com. Take his most recent missive — a weird attempt to link the campaign of 2020 presidential hopeful Pete Buttegieg with Arizona freshman senator Senator Kyrsten Sinema. Filled with nasty invectives and a truly wacky scenario that will give us "sodomites" in the White House, he also opens with a sentence that leads you to wonder if Shoebat.com is in serious need of a copy editor:
"Truth is stranger than fiction, and this is no truer than with the current presidential elections, where the Democrats are putting forth candidates that clearly cannot with [sic]."
Well, you don't "with" with anything. But it's probably not fair to point out these kind of errors because they routinely happen on websites (such as this one).
What follows, though, is some truly nasty stuff that points to what Buttegieg faces from conservative forces in the upcoming campaign.
For the rest of the story go to:
https://ftlauderdale.edgemedianetwork.com/news/politics/news//274878
And then there are people who know the man:
"I like that he's young," said Tom Lacy, a 62-year-old retiree who came from Peoria, Illinois, for the event with his wife, Candy, on their 35th wedding anniversary. "He's so relatable. He doesn't seem like a politician to me." Lacy said: "The contrast between him and our current president is unbelievable."
Nausher Ahmad Sial, a 68-year-old developer from South Bend, said "we need to try new blood."
For the rest of the story go to:
https://ftlauderdale.edgemedianetwork.com/news/politics/news//274882
Last, but certainly not least, let's keep on killing each other
Omar Cites More Death Threats Against Her Since Trump Tweet
https://ftlauderdale.edgemedianetwork.com/news/politics/news//274884
User Comments